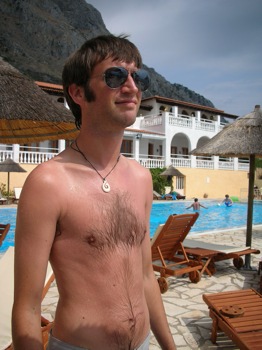 Corfu Photo Gallery
I am now slowly returning to normality after a week in Corfu, staying at the Pantokrator Hotel. It was a glorious week of doing nothing apart from eating, sleeping and sunbathing – and I even have a bit of a tan to show for it.
Our flights were at miserably inconvenient times, and the transfers were a nightmare (including changing coaches on the way out, in the middle of nowhere, in the dark – don't ask), but the hotel was pleasant and the views from the hotel even matched up to the views on the website!
Downsides? Wasps. Everywhere. They did appear particularly docile, but you never can be too careful. And what are wasps for, anyway? The other downside was VH1 Classic, not for the music that was played in the pool area (you can't complain when listening to the Barry White hour, can you?), but for the adverts that seemed to come on every three songs, and contained nothing but ads for ringtones (arrrgghhhh) and dodgy get-out-of-debt loans ("Is debt ruining your life?"). As if anyone who is in serious financial trouble should try and get out of it by using a company that has to advertise on music tv. Oddness.
Another highlight was the BBQ Boat Trip, where we travelled from Paleoskristos down the coast, visiting coves and secluded beaches, before jumping off the boat to sunbathe at one particular beach and be fed barbecued chicken. Gorgeous, gorgeous scenery.
And then coming back – a two hour delay at Corfu airport, which is one of those places that you don't want to spend any time at, never mind an extra two hours. Surrounded by boombox-wielding chavs brought me closer to murder than ever.
In summary, a fantastically-relaxing week, bookended by the nightmare of short-haul travel…
And, just in case you are interested, holiday reading comprised of:
"Bringing Down the House: How Six Students Took Vegas for Millions" (Ben Mezrich)
"The Shipping News" (Annie Proulx)
"Insomnia" (Stephen King)