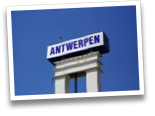 This past weekend was spent in Antwerp, Belgium, for Matt's Stag Do – along with another 11 of his friends and family. Travel by Eurostar was great, and that was where the drinking started, followed up by many bars filled with Belgian beers. I wasn't too popular with bar staff when asking for spirits – although there was one bar with a lovely Strawberry beer…
There is a photo gallery linked above, with some photos of Antwerp, and our (now) traditional stag do cycle ride. This time, the ride ended up on a beach, feeling the sand between our toes much to the amusement of the rest of the party. We seemed to visit most bars in Antwerp over the two nights, even if it was only briefly when the first in decided he didn't like it, leading to the conga line following him out!
The only downside of the weekend was the attack of the cats in one particular bar which sent my allergy reflexes into overdrive – you would have thought by now that I would have learnt that cats + me don't agree. In fact, when I become supreme leader of the universe, all cats will be shaved!