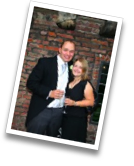 And a very deserving first post on the new system, to congratulate my good friend Mr Sheedy on having the wisdom to ask his good lady-friend Emma to do him the honour of being his wife.
Apparently, it was all very romantic whilst over in the Big Apple, just as I would expect.
Looking forward to the day Neil!