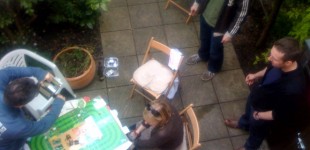 It's been a little quiet on here - my hope that all of the exciting things we have been up to for he past three months would have made for many a blog post.
And they would have. If I had the time to write them.
Still, the wedding venue is booked, we are almost ready to move house. Holidays are planned.
But, most importantly, we got to play the Really Nasty Horse Racing game at Stewart and Susan's place this weekend. And it was very nasty indeed…