A couple of weeks ago, I got the chance to whisk my wingman to the exotic location of Canary Wharf to witness an outdoor showing of Top Gun. Another of those films from my 'youth' that people can't believe I haven't seen yet.
(This includes Terminator, Pulp Fiction, Trainspotting, Alien. Basically anything I 'should' have watched. It should be noted that I have seen The Goonies. Lots of times. And The Explorers, I quite liked that one. And Cocoon.)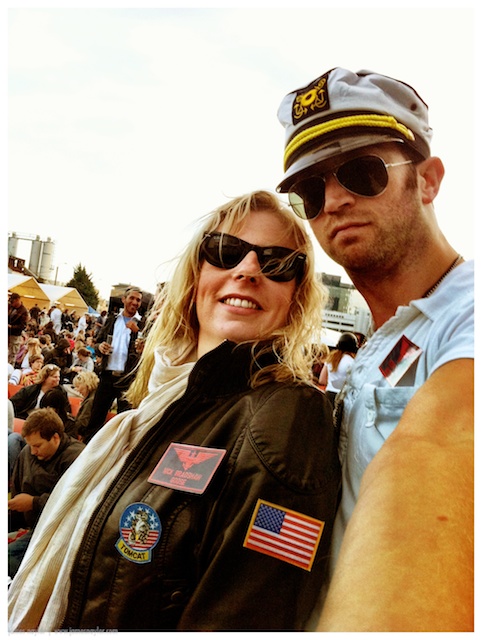 Anyway, back to the story. The premise of a Secret/Future Cinema event is that you should get into character for the film, which is how I found myself on the 16:42 from Mitcham Eastfields, dressed in an outfit that almost was Top Gun, but I fear more the Navy guy from the Village People. There wasn't anyone else on my train that was going.
Still, the closer to Canary Wharf, the more like-minded people we saw. Flight suits, Dress Uniforms, 80s Leather Jackets. We finally fitted in. The setting was made out to be 'Californian' and almost succeeded, foiled only by a cold Northerly wind funneling through the towers and over the water of Canary Wharf. So, we ate, went on the big wheel, got shouted at by people dressed in uniform, listened to lots of 80s tunes (thanks, Guilty Pleasures!) and settled in to watch the movie…
[gallery columns="1" link="file"]