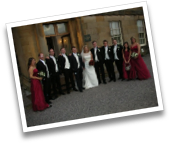 Jon & Louise, Hassop Hall, November 4th 2005
This weekend we got to help celebrate the wedding of Jon and Louise, who are now honeymooning themselves around Africa. The venue was Hassop Hall, where we had previously been for George's friends Jo and Pete, so we knew how nice it was going to be – and despite the typical grey November weather, it turned out fantastically!
We did nothing but eat for hours, drink merrily and dance like loons, with particular highlights being one of the bridesmaids grabbing the DJ's mike to do an impromptu karaoke version of 'Simply The Best' by Tina Turner, and the fireworks show done by Jon's uncle, which was great (if a little chilly…).
At the end of the evening, we never carried out our threat to crash on Matt and Katie's floor and fell into bed exhausted but happy. Enjoy the photos, and congratulations Jonathan (Mitchell) and Louise!